Chineke! Orchestra honours Paul Stephenson at Malcolm X Centre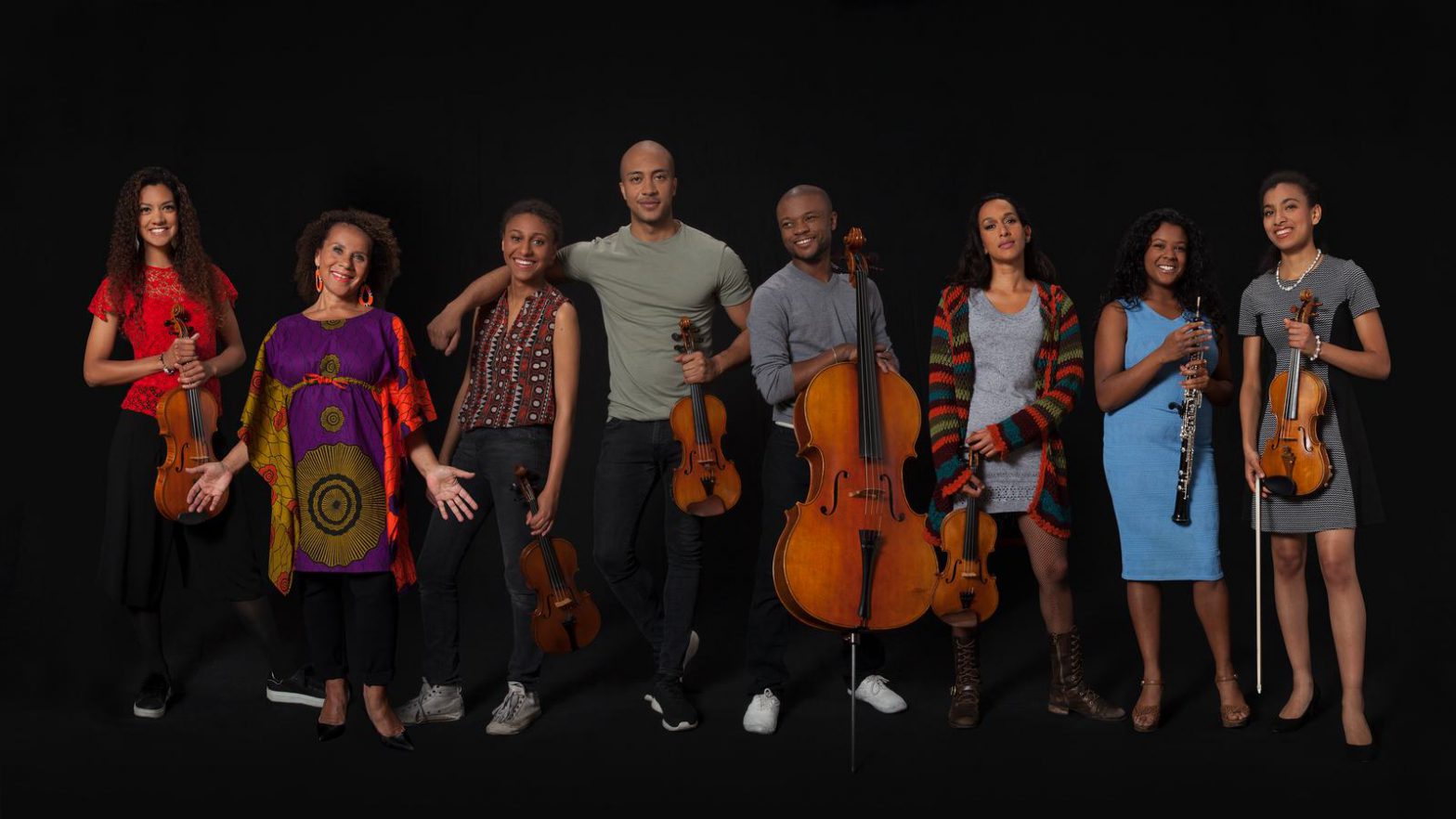 Saturday, May 18, 2019
It started with an intimate explanation and listen to instruments in the woodwind section. Then, in walked conductor Michael Rakotoarivony and the string musicians to continue the classical concert. Chineke! Orchestra played to standing ovations and ululations at the Malcolm X Centre in St Pauls, Bristol. Overlooked by the hall's iconic Africa mural, we were treated to Chineke!'s take on Benjamin Britten's Simple Symphony and Gustav Holst's St Paul's Suite – written about St Paul's Girls School in London where Holst was a music teacher, still, a nice touch for the location. A third piece, Free-man, was composed by James B. Wilson who sat in the audience with us.
Chineke! was established in 2015 by world-renowned double-bassist Chi-chi Nwanoku OBE. Nwanoku spent more than three decades playing in professional orchestras and philharmonics internationally where she recognised the need to provide career opportunities to young Black and minority ethnic musicians across Europe. Chineke Is an Ibo word which means 'the spirit of great creation'.
The orchestra is now in residence at St George's Bristol and regularly plays in the city. In fact, Chineke! had just played St George's the night before, with elder Paul Stephenson OBE in attendance. People of my parents' generation quickly hail Dr. Stephenson as a dear British civil rights leader. Along with compatriots Audley Evans, Roy Hackett, Prince Brown and Owen Henry, Stephenson 'broke' the 'colour bar' at the Bristol Omnibus Company in 1963 by boycotting jobs until everybody had an equal chance at every position.
Young composer and pianist James B. Wilson was commissioned by Chineke! to write a piece of music in response to this legacy. He was in the audience at St George's as well, when Free-man made its' world premiere in the place that Nwanoku describes as the orchestra's second city. It played again for us at the Malcolm X Centre.
"Free-man opens with a solitary voice, a question, a statement of intent which is quickly answered by an urgent tremolo in the strings," says Wilson, describing his composition.
"There is a sense of struggle in the music but also the joy of a call to freedom."
When I asked him about the process of being commissioned to respond to a topic (no less, a person who will see the work) Wilson said he read Stephenson's biography, spent a lot of time researching and watched everything he could find about the Bristol bus boycotts.
"As musicians and composers, we are storytellers," he continued, "a lot happens in your subconscious that you can't quite put into words. At some point you have to switch it all off and then let your creativity take over".
The afternoon ended with a word from Bristol's Deputy Mayor Asher Craig. Acknowledging Chi Chi's work as a leader, she also commended Dr. Marie-Annick Gournet, Trustee at St George's, whose presence on the board made the partnership and community connection with Chineke! possible.
"Today's event shows that there is a need for other organisations like St George's to reach out and go into different communities. We could be doing the same in Southmead and Hartcliffe and other places where we may not always be able to get people to come into the centre."
---
Come back to hear the interviews with Chineke! founder Chi-chi Nwanoku and Free-man composer James B. Wilson or hear them first on Ujima Radio.
In the meantime, check out my interview with Marti Burgess – Chair of the St Pauls Carnival.
asher craig chi-chi nwanoku chineke! classical music malcolm x centre st georges bristol